Teen Idol on The Rocks
The Bobby Rydell Autobiography
To order & read about Bobby Rydell's candid and compelling autobiography:
TEEN IDOL ON THE ROCKS: A Tale of Second Chances
---
Coffee Mugs Available:
Coffee mugs feature a photo of Bobby on one side. . Price includes gift box and shipping and handling.
Volare Hats Available:
Price $25 includes shipping and handling
Photos Available (No Autograph):
Brand new 8 x 10's of Bobby available. Choose from 5 different photos including newly released vintage photos.
Cost: $15.00 (single 8 x 10)
---
Announcing the (Digital) Re-Releases of 4 of Bobby's Cameo Albums. Now on iTunes!
Forget Him
---
Bye Bye Birdie
---
Wildwood Days Album
---
Bobby Rydell Covers/ the Top Hits of 1963
Vol. 1
---
Bobby Rydell Covers/ the Top Hits of 1963
Vol II
---
The Best of Bobby Rydell Cameo Release
---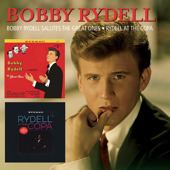 At long last, this twin set "Rydell Live at the Copa" and " Bobby Rydell Salutes The Great Ones" has been digitally re-mastered (stereo) for your collections. Cameo Label/Circa 1960's
---

Bobby is pleased to announce the worldwide release of his first new material in decades!
NOW … Consists of 10 standards sung as only Bobby can…It features amazing arrangements with full orchestration. This CD will not disappoint, it is clearly Bobby's finest vocals yet. It's a must for any fan's collection!
THEN…Consists of 10 of Bobby's all-time hits. An unforgettable performer that has spanned the decades proves with this CD he has surpassed the test of time.
Also available for download
---
The Complete Bobby Rydell on Capitol
Capitol Records has released their entire collection of Bobby's music after he left Cameo. It's an outstanding collection and so many have asked for it for years! You can order it directly from this web page.
---
A Philadelphia Christmas
This CD is only available by Download
---
Born with a Smile
Bobby Rydell CD & TAPE
Recorded and released originally in 1976 Plum Records has reissued BORN WITH A SMILE to accommodate the growing demand for Bobby's music.
Featuring Disco version of Bobby's hit "Sway"